About Dutch Prize Papers
The Prize Papers are documents seized by British navy and privateers from enemy ships in the period 1652-1815. Approximately a quarter of the Prize Papers originates from Dutch ships. Apart from ship's journals, lists of cargo, accounts, plantation lists and interrogations of crew members, this collection also contains approximately 38,000 business and private letters. The letters originate from all social strata of society and most of them never reached their intended destination. A description of the project is on Huygens ING website.
A substantial subsidy by Metamorfoze, the national programme for the preservation of paper heritage, made it possible to preserve and digitise a small selection of especially Dutch documents.
In order to make all digitised material accessible, Huygens ING is developing a Virtual Research Environment (VRE), that has been financed by Samenwerkende Maritieme Fondsen (SMF).
Organisation of the archive
The Prize Papers are kept in the Archive of the High Court of Admiralty (HCA) in The National Archives in Kew, London. Two series have been selected: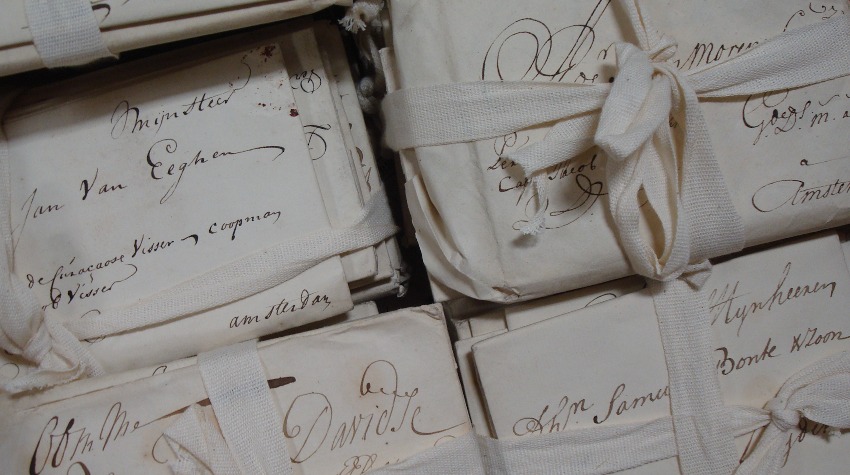 Photo: Erik van der Doe / Metamorfoze
Metadata
DPP project is work in progress. The first step to disclosure all selected documents are so-called metadata.
These key terms include ship name(s), ship master(s), capture date and are based on descriptions made by The National Archives.
We will endeavour to complete the data.
Disclaimer
This VRE is aimed at allowing the user to browse through the Prize Papers collection. However, in the current release the functionalities of the VRE (its search options and overall scope) are still limited, and search results are suboptimal. Future releases, which will be announced on this page and on our social media channels, will improve the VRE's functionalities and search options. We are currently also working on annotation and transcription tools, these are, however, not available in the current release.
Contact
prizepapers@huygens.knaw.nl